How to resize an image

Responsive Image Resizing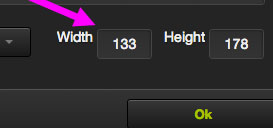 You can change the size of a photo from the Image tool by entering a numerical width.* In most cases it is best to set the width as a percentage value, like "33%" or "100%", but you can also set a pixel value like "250" or "640". Percentage-based values allow images to adapt to mobile screens, which is usually what you want.
If you have already added an image to the page and want to change the size, first click on the image to select it, then click on the Image Library tool in the toolbar.
* You can set an image's height in pixels, but percentage-based heights should not be used.